History of the World's Old Electric Shovel Manufacturers
History of the World's Old Electric Shovel Manufacturers
1. Bucyrus company was founded in 1880 and launched the first rail type (non rotating) steam excavator in 1882. In 1893, the company's headquarters moved from Bucyrus, Ohio, to South Milwaukee, Wisconsin. Between 1904 and 1914, there were 77 steam shovels manufactured by Bucyrus, which participated in the construction of the Panama Canal. Since then, it has successively merged several steam shovel companies. In 1927, Bucyrus merged with Erie Steam Shovel Company and the company was renamed Bucyrus-Erie (B-E). By 1929, Bucyrus had produced more than 10000 excavators and cranes, becoming one of the world's largest manufacturers of mining machinery. In 1930, Bucyrus merged British Ruston Hornsby Company and began to shift from steam shovels to electric shovels. By 1948, the number of Bucyrus products had exceeded 74000. In 1969, Bucyrus produced the world's largest 4250W walking dragline, which weighed 12258 tons and had an amazing capacity of 168.2 m

3

! In 1981, Bucyrus began to use the first generation AC power supply system on the 395B electric shovel. In 1997, it merged Marion Power Shovel Company
--the world's second largest dragline manufacturer.
Marion Power Shovel Company
was founded in
Marion, Ohio in
1884, and later developed into a world famous mining equipment manufacturer. In 1903, 24 steam shovels manufactured by Marion participated in the construction of the Panama Canal. In 1911, Marion developed a rotary long arm electric shovel, and in 1931 participated in the construction of the Hoover Dam. In 1939, Marion developed the first walking dragline. Only three years later, it produced the largest dragline at that time and became an important manufacturer of large coal stripping shovels. In 1965, Marion 6360 electric shovel was manufactured
, t
his super giant weighs 13600 tons
,
with a bucket capacity of 138
m

3

.
In March 1963, Marion received a contract from the NASA to build two "crawler" carriers for the Saturn 5 giant rocket in the Apollo moon landing program. This is the world's largest caterpillar transport vehicle, 41.2m long, 34.7m wide, 6.1m high, and 2722t dead weight. When transporting Saturn 5, the maximum total weight is 8200 tons, and when transporting the space shuttle, the weight is about 7950 tons (space shuttle+mobile platform). The traveling mechanism consists of 4 groups of 8 tracks, each of which is 12.6m long and 2.3m wide. It can slowly transport the spacecraft from the test plant to the launch site 5.5 kilometers away at a speed of 1.6 kilometers per hour. These two machines still work normally
now
.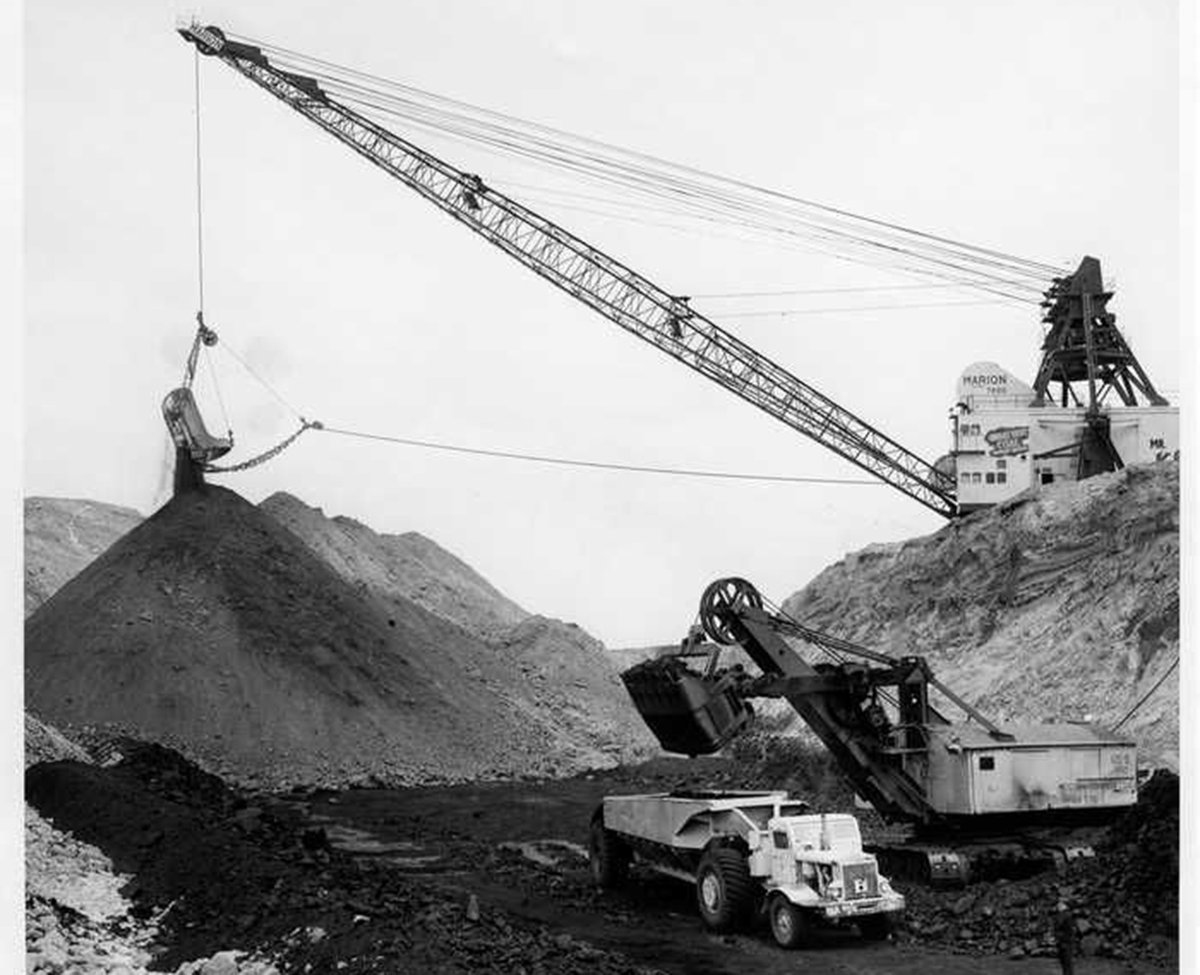 In 1985, Marion launched the M-301 44m

3

electric shovel to match the 240 ton
s
mining vehicle
and i
t was upgraded to M-351 in 1995. In 1997, Marion was acquired by Bucyrus, and the factory was closed, but the brand was retained. This ended the 113 year long fierce competition between the two heavyweight competitors. Through the acquisition of Marion, Bucyrus added more than 120 Marion shovels in operation to its equipment list, enabling Bucyrus to obtain a large amount of technical data. In 1999, Bucyrus launched 595B electric shovel based on Marion M-351 electric shovel, with the maximum bucket capacity of 65.3
m

3

and working weight of 1179 tons. All 595B shovels are operated in the oil sand mines of Suncor Energy
Company
, Canada. The 495 series includes 495HD (high load), 495HF (high flotation) and 495HR (hard rock) versions. The 495HF electric shovel has a capacity of 61.2
m

3

and a working weight of 1412 tons. In 2000, Bucyrus introduced the design scheme of 795B electric shovel, with bucket capacity of 68.8
m

3

and working weight of 2041 tons.
2.
P&H is a world leading mining equipment company. In December 1884, Henry Hanishfiger and Alonzo Pawling founded P&H in Milwaukee, Wisconsin. In 1887, they produced the first electric bridge crane and became one of the earliest manufacturers of electric lifting equipment in the world. In 1903, the P&H plant was destroyed by fire. The next year, P&H bought land and built a new plant. After the outbreak of World War I, P&H began to produce mining and construction machinery. They developed backhoe excavator and the world's first gasoline engine powered dragline. By 1930, the number of employees had increased to 1500. After the outbreak of World War II, P&H got further development. The cranes, winches and excavators they produced were used to manufacture tanks, artillery, aircraft carriers and construction projects, and new plants were built in Michigan, Illinois, California and other places. After the 1950s, P&H entered the overseas market and cooperated with Kobelco and Rheinmetall to produce cranes and excavators. In 1956, P&H became a listed company in the United States. In 1969, it launched 2800 electric shovels with a bucket capacity of 39.2 m

3

, a working weight of 1084 tons, and a total power of 3089 k
w.


The outbreak of the oil crisis in the 1970s stimulated the world's coal demand, and P&H's mining machinery sales soared. In 1978, P&H launched the 5700 electric shovel, which was the largest double shoe electric shovel in the world at that time. P&H 5700 has manufactured 5 sets in total. The first one is LR type. The capacity of the bucket initially installed is only 19.4
m

3

, but the arm length reaches 27 m, and the working weight is 1600 tons. He worked in the Captain Mine in Illinois for 13 years, transferred to Ruffner Mine in West Virginia in 1991, upgraded to HR type, and replaced 33.6
m

3

of bucket and short boom. The second one was transported to Australia in 1981, with an arm length of 21 m, a bucket capacity of 46
m

3

and a working weight of 1667 tons. The third one was installed on the barge and sank into the sea. The other two are also in Australia, upgraded to 5700XPA, with bucket capacity exceeding 61
m

3

and working weight of 1905 tons, thus continuing to maintain the position of the world's largest double
track
shoe
s electric shovel.

In 1981, P&H mining machinery sales reached 646 million dollars. However, at this time, the global economy fell into depression again, and P&H Company suffered heavy losses and was forced to restructure its business. In 1986, P&H Company acquired Beloit, a pulp and paper machine manufacturer. This acquisition made P&H flourish again. By 1990, Beloit's sales had reached 1.1 billion dollars. P&H's shovel business is also recovering. In 1991, P&H launched 4100 series
electric
shovels, which are the largest
electric
shovels currently being produced by P&H, and have been upgraded to 4100XPC, with an overall weight of 1491 tons, a bucket capacity of 67.6
m

3

, and a total power of 4979 k
w. It can cooperate with 172-363 ton mining vehicles.

3. Uralmash
, f
ounded in 1932,
which
was
the largest heavy machinery factory in Russia. In 1949, Uralmash launched a walking dragline with an arm length of 65 m and a bucket capacity of 14
m

3
for the construction of the Volga
River
-
Don River Canal. In 1979, a dragline with arm length of 100
m
and bucket capacity of 100
m

3

was built for the Krasnoyarsk mine. The machine weighs 10300 tons, has an input voltage of 10000 volts, and uses four 2500 kw motors. In 2006, the 25.9
m

3

walking
electric
shovel was made and used in Xibe Obo (Mongolia) Coal Mine. In 2007, Uralmash began to develop 18 m

3
electric
shovel. At present, the mining machinery produced by Uralmash mainly includes 10-20m

3

electric shovels and 11-100
m

3

giant draglines.