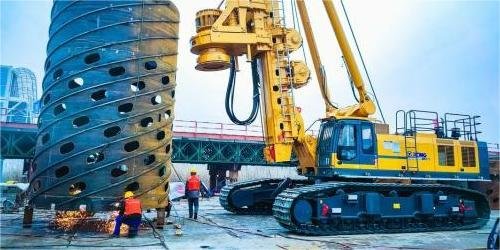 The Application of Rotary Drilling Rig in Urban Infrastructure Construction
The application of rotary drilling rig in urban infrastructure construction is very wide.
1. Underground pipeline construction: including various pipeline construction such as drainage pipes, gas pipes, communication pipes, etc.
2. Bridge foundation construction: Rotary drilling rig can be used for drilling and pouring piles of bridge piers and abutments.
3. Building foundation construction: Rotary drilling rig can be used for the construction of deep foundation pits, underground garages, and other building foundations, such as bored piles, mixing piles, etc.
4. Mine construction: deep hole blasting, mine support, etc.
5. Water conservancy engineering construction: The basic construction of various water conservancy projects, such as dams, embankments, channels, etc.
Advantages of rotary drilling rig in Urban infrastructure construction
1. High work efficiency: With the function of integrating drilling and grouting, the work efficiency is high, which can greatly shorten the construction cycle.

2. High safety: simple and convenient operation, which can avoid safety accidents caused by operational errors.

3. Good environmental friendliness: Adopting hydraulic transmission, it has low noise, vibration, and exhaust emissions, meeting environmental requirements.

4. Flexible mobility: small size, light weight, and flexible mobility, suitable for construction in narrow urban spaces.

5. Strong adaptability: Suitable for engineering construction in various geological environments, capable of drilling and pouring holes of different specifications and depths.


Any inquiry of ROTARY DRILLING RIG undercarriage parts (

track shoe, track link, track roller, carrier roller, sprcket, idler

), please contact us freely!