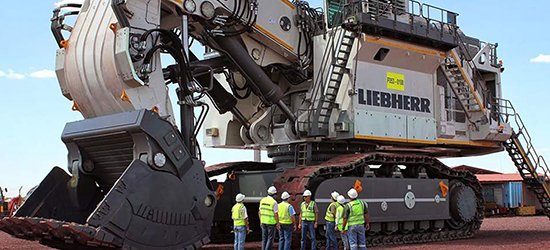 The world's largest excavator
The world's largest backhoe hydraulic excavator, the giant of the construction vehicle industry, is Liebherr R9800, "fighting the world". We may think that such an excavator is no different from ordinary excavators, but the fact is that this excavator is not rich to buy, only 10 units in the world, belongs to the mining excavator.
Liebherr company was founded in 1949 by Hans Liebherr in Germany's Kirschdorf-sur-Elyer, its main products include
cranes, large mining and excavation equipment
,
large trucks, aircraft parts and household appliances. liebherr has become one of the world's leading manufacturers of construction machinery. Liebherr's "LR" series derrick boom crawler crane has reached a maximum lifting capacity of 3000 tons (LR13000), "LTR" series telescopic boom crawler crane has also reached a maximum lifting capacity of 1200 tons (LTR 11200).
Liebherr R9800, with white paint throughout, is known as the "Rolls Royce" of the excavator industry. Its length, width and height are: 25.17 meters, 8.33 meters, 10.33 meters, Liebherr R9800 working weight of 800 tons, just a bucket of 42 tons, which has been equivalent to a main battle tank, and it has a front shovel and back shovel two kinds of structure, back shovel R9800 bucket crushing force reached 1840 kN, front shovel structure of the bucket horizontal cutting force reached The bucket has a capacity of 42 to 47.5 cubic meters, and only three shovels are needed to fill a heavy truck of more than 200 tons, so it is also called "mine killer". Power is quite strong, this giant is equipped with twin engines, consisting of six 16-cylinder engines, optional Cummins QSK-60 and Daimler Benz 12V4000, with a maximum power of 2,984 kW. Each engine is equipped with a mailbox with a capacity of 2,000L and another large mailbox of 19,691L, which can explode to move with 1,000 horsepower. The speed is about 1.8 km / h. There is no road on earth for such a big guy to drive, so it needs to be disassembled into loose parts, transported to the construction site, and then assembled by hundreds of engineers on site, and the assembly work alone takes more than ten days to complete, which shows the magnitude of its engineering. Its calibrated track plate width of 1.63 meters, these strong configuration, even in the harsh environment of the mine, it can also act freely, as stable as a mountain, to deal with, this excavator only 10 units in the world, the price of each unit up to 140 million yuan, many workers do not want to be paid to drive on a day, but it is not anyone can drive.
If you need any
Excavator Undercarriage Parts
please don't hesitate to contact me.More exciting information, please check our next news.