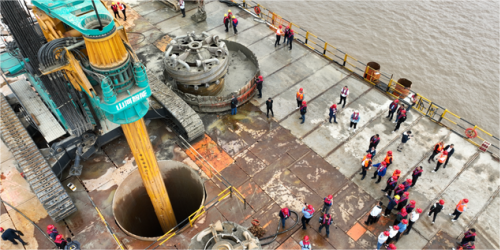 The World's Largest Rotary Drilling Rig SWDM1280
Made in China, the world's largest! Sunward has developed the super rotary drilling rig SWDM1280. This "world's number one drilling rig" is the world's largest drilling rig made in China. The maximum hole diameter of SWDM1280 can reach 7 meters, and the maximum hole depth can reach 176 meters, helping to build the world's largest cross sea bridge for both highway and railway use.
It is reported that SWDM1280 has already set sail for the Xihoumen Highway Railway Dual Purpose Cross Sea Bridge in January of this year, and successfully drilled in February. This super rotary drilling rig has overcome challenges such as high winds, high waves, deep water, rapid currents, and bare rocks, and has drilled at the head pile of Pier 6, becoming the world's largest rotary drilling rig in actual combat. Breaking the record held by the SWDM1000 rotary drilling rig and setting a world record for the maximum hole diameter of the rotary drilling rig.
The foundation of Pier 6 consists of 8 drilled cast-in-place piles, with a design pile diameter of 4.5 meters and a design hole depth of about 60 meters. The depth from the construction plane to the seabed surface is about 25 meters. The 4.5-meter pile diameter adopts a three-level expanding drilling process, and the drilling time for a single pile is only 54 hours. While ensuring accuracy, efficiency is also improved.
As a leading enterprise in pile engineering machinery, Sunward has been continuously researching and innovating in recent years. While promoting manufacturing in China, it has also made significant contributions to the progress of world engineering.