The world's 5 strongest cranes
NO.5: Manitowoc 31000, the United States crawler crane, the crane main boom is 105 meters long, up to 209 meters in height, equipped with two 600 horsepower 15-liter Cummins engine, in fact, this is the largest crane made by the U.S. manufacturer, Manitowoc 31000 maximum lifting capacity of 2300 tons, lifting moment of 35,800 t - m , the first one was manufactured in 2012, delivered to South Korea a year later, in 2013 in a Korean LNG plant for a record lifting, lifting a 650-ton cooling tank, the whole process in less than two hours, and now often see this giant actively involved in the construction of nuclear power plants or stadiums.
NO.4: Demag CC 8800-1Twin, this crawler crane from the 202-year history of the "lifting machinery experts" of the German Demag company, he upgraded on the basis of the original Demag CC 8800-1, making the lifting capacity is now exactly twice his brother, it has 2903 tons of lifting capacity, the main boom length of 156 meters, its maximum height of 234 meters, with two 530 horsepower German MTU engine, the maximum lifting moment of 43,900 tons - meters, the first manufactured in 2007, in 2008 India's largest crane rental company purchased a, want to assemble and disassemble the crane, the mouth to spend 48 days. At present, China has three units are used in the construction of nuclear power plants.
NO.3: Liebherr LR13000, from 2007, Liebherr has become the world's largest crane company, the crane was launched by Liebherr in 2010, the machine's maximum height of 248 meters, with a huge lifting capacity of 3,000 tons, it has a lifting moment of 65,000 tons - meters, which makes it the world's most powerful crawler crane, the crane can be used in a variety of engineering construction, such as the installation of wind turbines, nuclear power plant construction, the construction of oil refineries or port cargo lifting, so far, only four LR13000 cranes have been produced, the latest is 2020, Russia purchased one for the construction of nuclear power plants, the other three were attributed to the Netherlands Mamut Heavy Lift Company, Mexican engineering contractors ESEASA and China Nuclear Industry Construction Corporation.
NO.2: XCMG XCG 88000, the crawler crane is XCMG and Sinopec in 2013 jointly developed a 4,000-ton crawler crane, it is the world's strongest crawler crane with Sany's SCC 4000 crane, its maximum rated lifting moment of 88,000 tons - meters, is the current global lifting equipment industry, the overall crawler crane Equipment in the largest capacity of the model, the product has created three international first technology and six international leading technology, with more than 80 national patents, the product is equipped with heavy duty main boom working conditions, light arm working conditions, tower jib working conditions, special jib working conditions, boom head single wheel slide and other five working conditions, mainly applicable to nuclear power, petrochemical, thermal power, coal chemical and other large projects, especially suitable for some high, large, heavy, far away frame, the dome tank and other construction operations. It is equipped with three 641 kW Cummins engines, each of which has a displacement of 23 liters.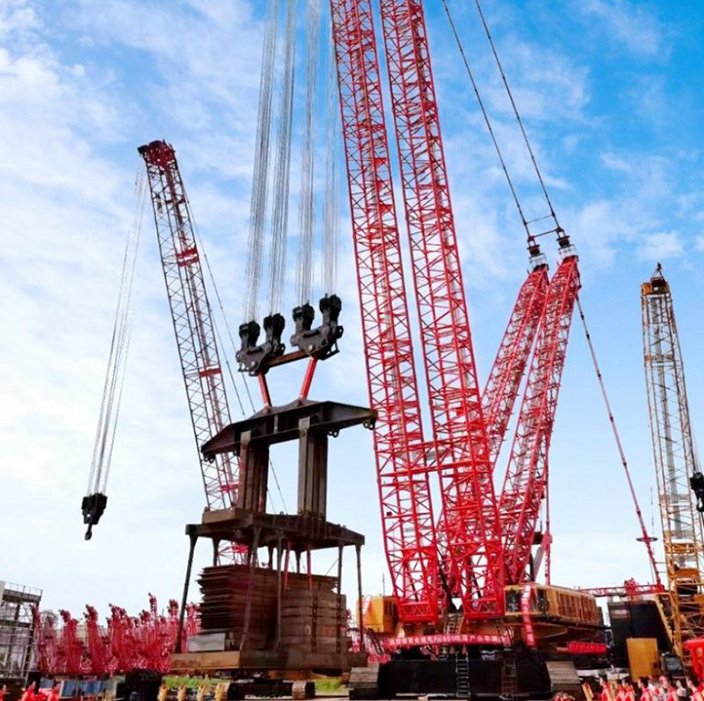 NO.1: Sany SCC40000, lifting moment 90,000 t - m, maximum lifting capacity of 4,000 tons, this crane has more than 20 patented technologies, the use of double crawler super heavy counterweight trolley, equipped with four crawlers, and eight drive travel system, it is the only crawler crane with a V-shaped double lattice boom, this crane parts need 150 30-ton The crane's parts need 150 30-ton trucks to be loaded, on July 15, 2020, this crane in Shandong Shouguang City, Lu Qing petrochemical project, the successful completion of the four thousand-ton level propylene tower lifting piles, the world's first crane, the ability to manufacture this level of crawler cranes means that China's industrial manufacturing level in cranes has reached the absolute world's leading.